Yamada-Nishiki project Awards ceremony – for beyond the best Yamada-Nishiki
Updated:2020.02.04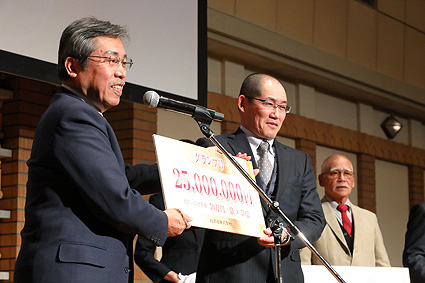 "Yamada-Nishiki project, for beyond the best Yamada-Nishiki" is a contest aimed towards supporting Japan's agriculture by purchasing rice at higher price, judged only by its quality. The Awards ceremony has been held on the 23rd of January to award three producers a Grand Prix, a Second Grand Prix and a Merit award.
160 producers have applied to enter the contest but because of this year's unsupportive weather, only 45 eventually applied. Within these 45 different harvests, 3 were rewarded.
Grand Prix: M. SAKAUCHI, Yamada-Nishiki growing research center (Tochigi pref.) Second Grand Prix: M. FUJIWARA, Fujita village Yamada-Nishiki group (Hyogo pref.) Merit Award: M. SHIRAI, Yamada-Nishiki growing research center (Tochigi pref.)
Congratulations!
Through thorough examinations, repeated many times, these 3 prized Yamada-Nishiki were of judged of an exceptional quality.
Asahi Shuzo will purchase 3000kg of each harvest, respectively at ¥25,000,000 (US$230,000), ¥10,000,000 (US$90,000) and¥5,000,000 (US$45,000).
One of the winners commented: "With this help, I will invest in new facilities in order to improve next year's rice quality". Another one; "Even though we weren't blessed with the weather, I am delighted that our efforts have born fruits". A producer that participated to the contest but was not awarded this year commented: "With the results of this year, I learned that high quality Yamada-Nishiki could be cultivated in regions where history of Yamadan-Nishiki production is not long. I want to do my best for next year's contest!".
As for the nine farmers that made it to the final examinations, Asahi Shuzo will purchase 3000kg at¥2,500,000 (US$23,000).
We thank everyone who took risks and participated to the contest. And We hereby make a promise to do our best in making a sake that would meet their expectations. Again, thank you to all rice farmers for participating!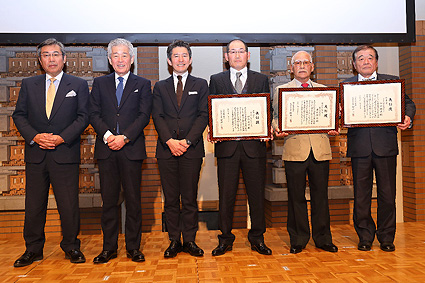 From left: Special jury M. HIROKANE (cartoonist), Asahi Shuzo chairman M. Hiroshi SAKURAI, Asahi Shuzo CEO M. Kazuhiro SAKURAI and the three winners.