Dassai Artisans獺祭の蔵人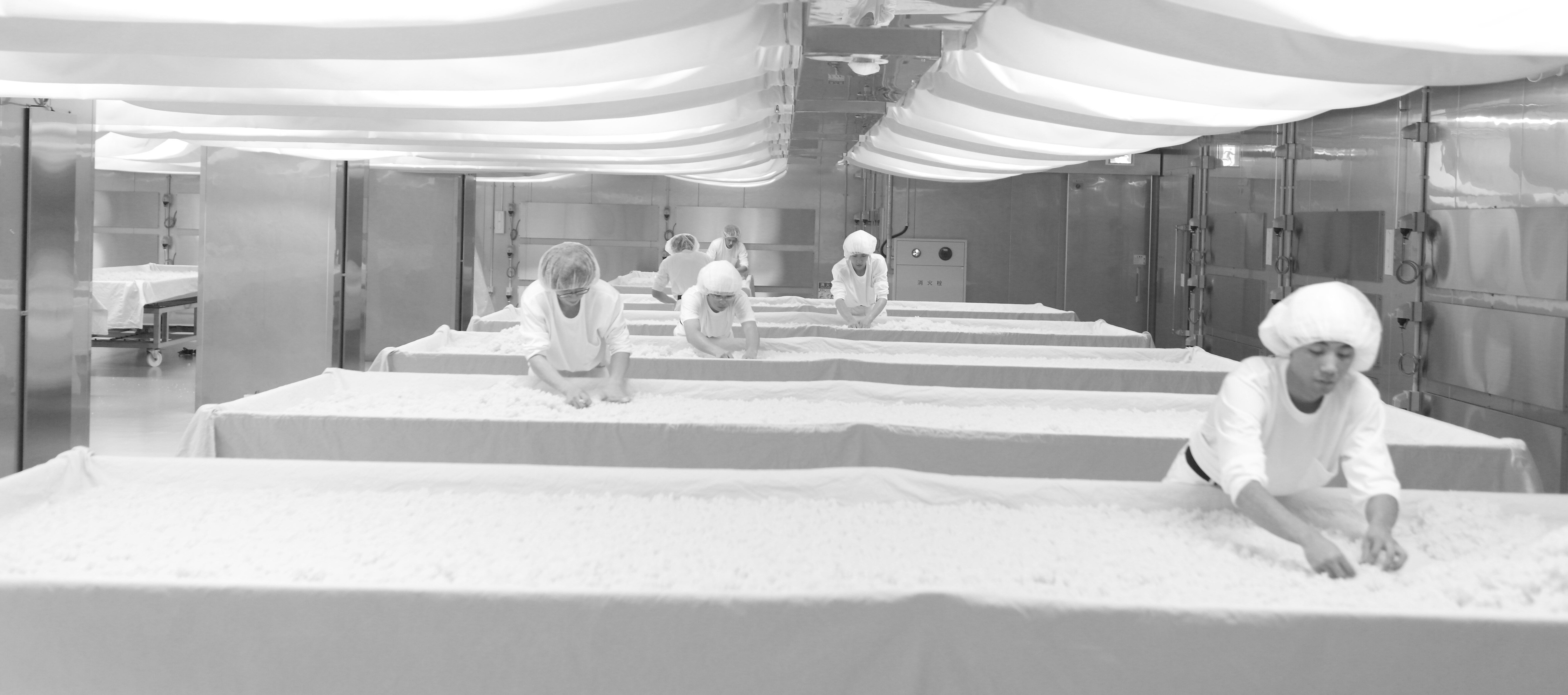 The Artisans behind Dassai
At Asahi Shuzo, we do not rely on the intuition and experience of a single master brewer, but rather on our skilled teams to craft sake.
This is to ensure the stable delivery of high-quality sake. Therefore, each employee is a master sake brewer.
Born on February 28, 1995 / Koji team ♯009
Suguru SEIKI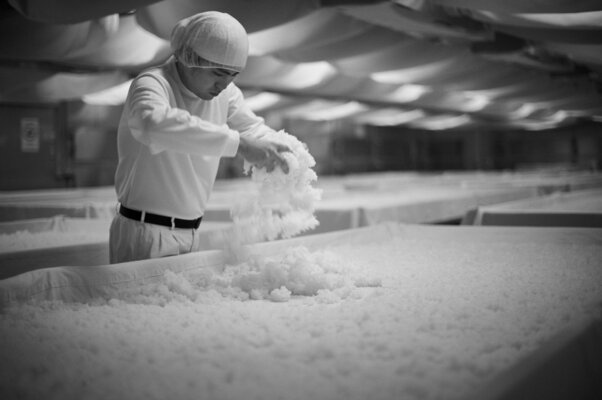 Asahi Shuzo is putting the best effort it can at the moment into sake brewing. One of the challenges toward this goal is the "Craft Dassai" sake. Two young brewers, who have been with the company for three to five years, are in charge of all processes from rice washing to bottling, with the aim of creating "a Dassai sake that respects Dassai's spirit". Seiki also took on the challenge.
"Actually, I didn't volunteer myself, but was asked by a fellow employee who was getting married to make a Dassai sake together for the wedding reception."
Thus began the sake-making process by the duo, who had been with the company for five years.
"We were told that many of the guests at the reception would be women, so we decided to make a slightly sweeter sake that would be easy to drink. It was a great success for us and was well received. Above all, we were happy that the reception was so lively."

Seiki explains the difficulty of making koji, which he is now in charge of.
"Koji is a living thing, so it grows at different speeds depending on the amount of water and other small differences. It is difficult because there is no right answer, but it is also challenging because of that." Seiki, who says that taking upon the challenge of "Craft Dassai" has made him realize anew the depth of sake brewing, says with a twinkle in his eye, "Eventually, I would like to release a perfect Dassai, one that is exactly as I want it to be."
When asked about the secret of making good koji, Seiki replied, "I choose the best method based on both sensory aspects, such as the feel of the koji in your hands, and data, such as moisture content.
Born on October10, 1997 / Amazake・Umeshu team ♯008
Daiki MURATA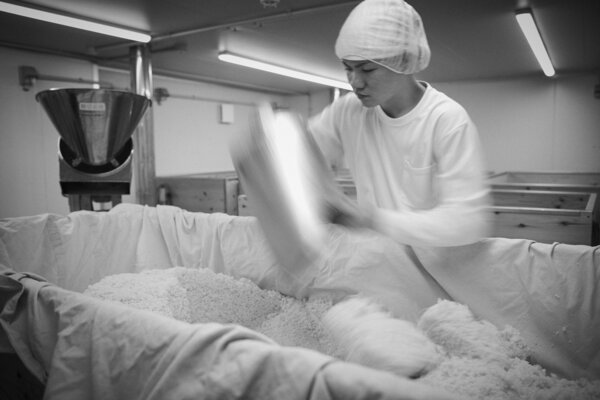 Asahi Shuzo began making "Dassai Amazake" in 2018: it is a relatively recent development. Murata, who has been involved in this project since it begun, explained to us why Asahi Shuzo started making amazake.
Even with Yamada-Nishiki rice grown by experienced farmers, 5 to 10% of the grains are inevitably of a poor quality in terms of grain size uniformity" he said. "However, discarding them is a burden on the farmers and not good for the environment. We wanted to make effective use of this rice, which is why we started making amazake."
However, this experiment was not all smooth sailing.
"Unlike sake, amazake contains no alcohol, so it is easy for bacteria to grow. Naturally, there are yeast and other fungi in a brewery that makes alcohol, but the key point was to thoroughly eliminate them. It took us a year to get to this point."

The resulting amazake has been well received in various places, and a collaboration with a major hamburger chain has been set up. "I felt like all my hard work paid off when I realized that people all over the country were enjoying the taste of amazake. I'm glad we did it.
"I didn't want to waste even a single grain of Yamada-Nishiki that the farmers had grown for us. I was developing amazake with that in mind," Murata recalls.
Born on September 19, 1977 / Rice polishing team ♯007
Shouji IDE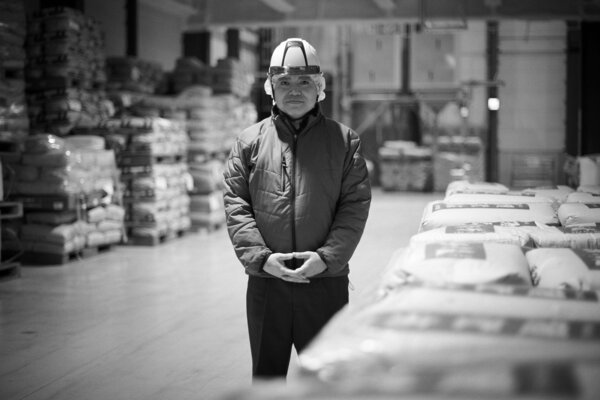 Ide, who joined Asahi Shuzo in 2016, had previously worked in sales in Osaka. He has since honed his rice-polishing skills and accumulated know-how. Then, a difficult job came his way, developing a new product called "Dassai Mirai : To the Future, With Farmers", it was decided to challenge an extreme 8% rice polishing ratio. Ide was appointed as the person in charge of the project.
"When I heard about the 8%, I was honestly worried about whether I could do it or not. When we started the work, we found that if we polished the rice up to 8%, the rice would become too light and the milling machine would spin around empty. Now, this was a problem."
How did Ide overcome this problem?
"Eventually, we gathered the rice polished by several machines into one machine. This was time-consuming and took about 2.5 times longer than usual, or about 10 days to polish the rice."

"It was interesting because it was all new to me. When the sake was finished, I felt a great sense of accomplishment."
It seems clear on why Ide was chosen to be in charge of this unprecedented project.

Asahi Shuzo currently sources Yamada Nishiki rice from 22 prefectures in Japan. Ide says that it is important for the rice polishing process to discern the subtle differences in properties between the different growing regions.
Born on March 14, 1993 / Rice washing team ♯006
Souta KUWAHARA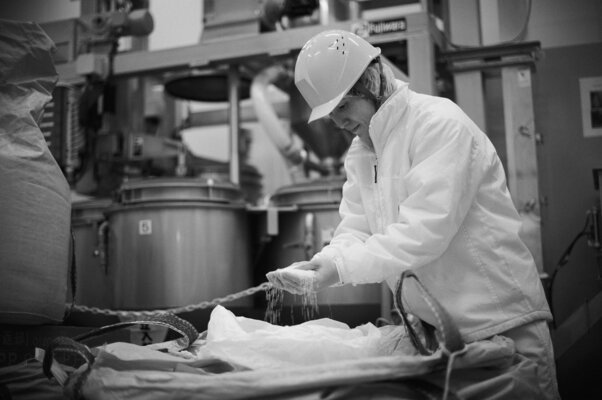 Born into a family that runs a liquor store, Sota Kuwahara was inspired to become a sake brewer by his sake-loving father. His focus is the rice washing process, which he is currently in charge of.
" I wash rice carefully so that each grain of rice is washed without cracking. Washing is also the process of restoring water to the rice, and I try to keep the water absorption rate close to the target value."
However, "Even if the rice is from the same production area, its characteristics vary widely," says Kuwahara. Every morning, before washing rice, I conduct a test to check the characteristics of the rice. The properties of rice vary from region to region and lot to lot, so we control how much water is absorbed by the rice based on data and past experience.

It was when he was in charge of crafting "Craft Dassai" that Kuwahara once again realized the fun and difficulty of sake brewing. "Craft Dassai" is an initiative in which young employees in their third to fifth years with the company work in pairs to create sake from scratch. I experienced it twice, and I realized that by paying attention to every detail in each process, you can make beautiful sake," he said. Kuwahara, who has been involved in sake brewing for eight years since joining the company, smiles and says, "I am grateful to my father for giving me the opportunity to pursue this path."

Before washing rice, he needs to understand the properties and conditions of the rice to be handled that day. Although he also takes data from analysis, Kuwahara says, "First of all, it is important to look at the rice with my own eyes."
Born on December 26, 1999 / Bottling team ♯005
Takashi MITSUI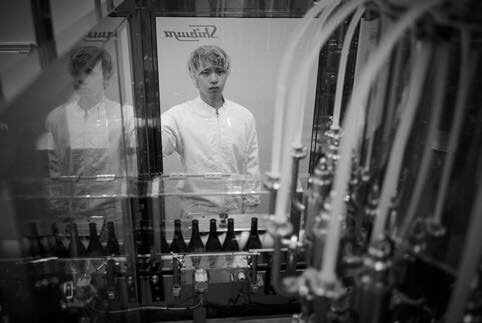 Takashi Mitsui, who has been with the company for four years, graduated from an elementary school right next to the company's brewery.
He is the junior of the chairman (Hiroshi Sakurai) and the president (Kazuhiro Sakurai) in elementary school, and is said to be part of the 'strongest academic clique' among the employees!
Mitsui came to work at Asahi Shuzo on the recommendation of his high school teacher, he first worked managing sake fermentation tanks. He is now in charge of assembling the bottling machine, which fills bottles with sake, and inspecting the products in this process.
He says, "I come early in the morning to assemble the filling machine. If I don't do this properly, there will be errors on the line which we want to avoid, so I have to be very careful. I used to be in charge of shubo fermentation control, so I know how carefully sake is made. This adds to the importance of processes down the line such as bottling.
Mitsui is still in his early twenties and is gradually gaining experience in sake crafting. He has a lot to learn, but at the same time, his possibilities are endless.

Born on September 14, 1994 / Pressing team ♯004
Atsuhiro MURAKAMI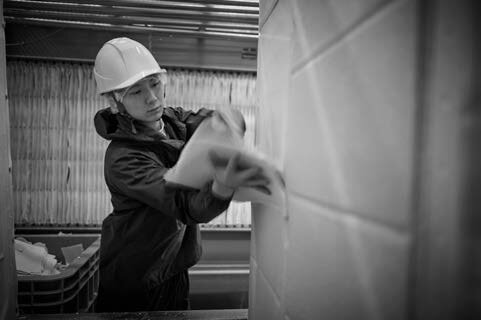 Atsuhiro Murakami cleans the Yabuta-style automatic filter press (commonly known as a 'Yabuta'), which is used in the process of pressing 'moromi' (i.e. fermenting mash). This process of seperating the lees from the sake and removing the lees is called "kasuhagi". Murakami explains the importance of this work as follows.
"Careful removing of the sake lees leads to a clean flavor for Dassai sake. The process beyond pressing is not so much to improve the taste of the sake, but rather to maintain its good taste and deliver it to the customer. That is why the person in charge of pressing has a great responsibility."

Having studied winemaking in a university laboratory, Murakami became interested in this field and has experience working at Asahi Shuzo through an internship.
"I chose to formally enter the company because the sake here is exceptionally good! (laughs)"
"Since I was a student, I thought sake crafting was difficult work, but now that I work at Asahi Shuzo, I feel that crafting sake, always thinking about the customer, is indeed a hard work, but also greatly rewarding."
Murakami, in his second year with the company, says "I want to experience more sake crafting processes in the future so as to gain a total understanding of sake making."
Born on May 24, 1995 / Shubo team♯003
Shoya UETSUKI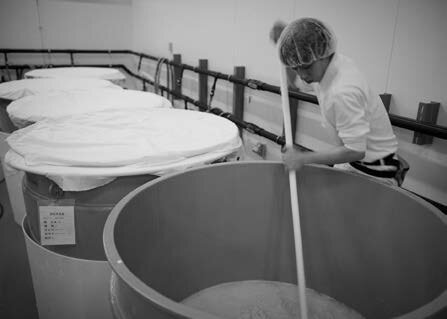 Shoya Uetsuki explained the process he is currently working on: "It is the process of making shubo, which is the base, the mother of sake."
"Every process is important, but making shubo is the first step in the process of making sake, so it is a critical point that determines the taste."

The reason why Uetsuki decided to join Asahi Shuzo is quite interesting:
"My major at university was in a completely different field, it had nothing to do with sake crafting. But when I thought about what kind of work I wanted to do, I decided that I wanted to work on creating the best product in the world. Asahi Shuzo makes the best sake in Japan, so it must be the best in the world. That's why I decided to join Asahi Shuzo."

He says that the two most important factors in taking care of shubo over a two-week period are data such as temperature, as well as understanding the condition of the yeast and rice.
"Stirring the mash is hard work and physically demanding, but it's fun to learn sake making from scratch."
Uetsuki, who switched from a different field to sake making, is absorbing the know-how of sake making like a dry sponge every day.
September 14, 1994 / Bottling team♯002
Takaya YONEHARA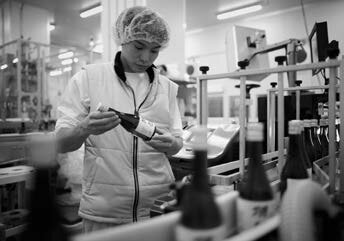 "What I do here is to stick Dassai labels on bottles filled with sake."
Takaya Yonehara, who has been with the company for six years, says,
"I've had a lot of experience in fermentation management. Now I keep a close eye on the sake bottles that flow through the product line."
In other words, after creating a great sake, he is in charge of delivering it to customers in perfect conditions.
"I feel that it is important to make sure the product is perfectly made, because customers will actually see and hold the product in their hands. We would make some changes on labels, a larger printing area for example, I think the bottles now look better than ever before.

Yonehara, a native of Yamaguchi Prefecture, said he studied fermented foods at a university in Kyushu.
"I wanted to return to my hometown and find a job, preferably one where I could put to use what I had learned at university. That is why I chose Asahi Shuzo."

When asked if he was glad he chose this job, he replied,
"When the sake tastes the way I want it to taste, it feels great. What I learned in college has been useful, but there is much more to learn in the field."
Born on April 16, 1996 / Koji team♯001
Hiromu HAMAUZU



When asked, Hiromu Hamauzu began to speak enthusiastically about the importance of the koji making process he is in charge of.
"Koji contains enzymes and if the koji is not made in the right balance, the rice may or may not dissolve enough during fermentation, or the sake may have a sharp taste. In order to achieve the taste Dassai aims for, we must get as close as possible to the target values. It is with this in mind that we work on koji making."

Hamauzu, who studied microbiology at university, became interested in sake crafting when a senior student from the same seminar joined Asahi Shuzo.
"I clearly remember the first time I drank Dassai. It was fragrant, not heavy, easy to drink, yet deep in flavor, and I knew at first sip it was a delicious sake."

Hamauzou, who comes from Kochi Prefecture, proudly states,
"There are a lot of sake drinkers in my hometown, and I drink a lot of sake, but I am confident in the taste of Dassai."
In his third year with the company, Hamauzu has experienced a variety of processes, including rice washing, sake fermentation, and koji making, and he feels "a lot of pressure because if I make even one mistake, it will directly affect the taste of the sake."
At the same time, he says that he finds a great satisfaction in his work.