Hiroshi Sakurai, Asahi Shuzo's Chairman, was selected as "Japan's Entrepreneur of the Year"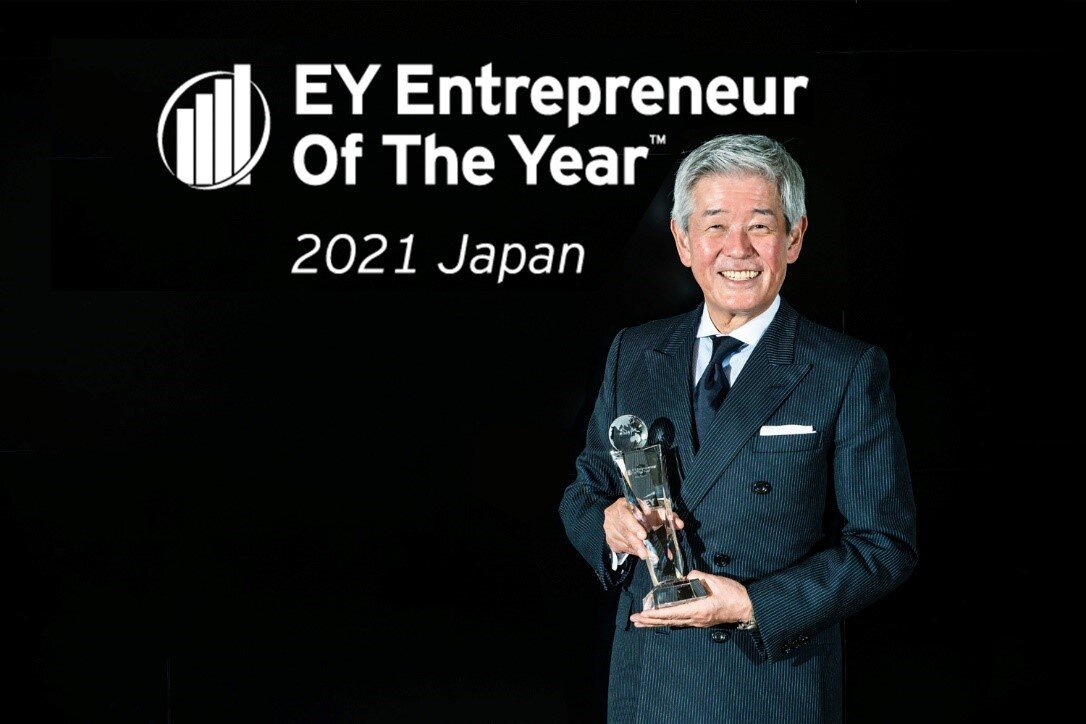 Hiroshi Sakurai, Chairman of Asahi Shuzo Co, Ltd. has been selected during the EY Entrepreneur of the Year 2021 Japan (EOY 2021 Japan) to represent Japan.
Hiroshi Sakurai's comment
There are many things people like to enjoy, be it sports, food or art. And throughout our lives, we like to enjoy a good meal along with a drink. This time, this award has given me the opportunity to look at myself again and reevaluate what is important and what I shall focus on in the future.
I would like to continue crafting sake that will bring joy to people all around the world.
General Comments by Mr. Kazuhiko Tomiyama, Chairman of the Selection Committee
This was an intense selection as entrepreneurs with quite diverse business models gathered from all over the country. The common thread was that they are developing economically sound businesses while being conscious of social aspects such as sustainability and affinity with the environment, reflecting the ESG era we are currently living in.
We chose Mr. Sakurai based on one question: "Which of these companies could best appeal to the world one universal core value from Japan?"
So I do hope that Mr. Sakurai would be able to show during the World Competition that his business model is based on all the blessings of nature, from rice cultivation to the utilization of byproducts, while achieving both efficiency and quality, and embodying the culture of eco-friendly and healthy sake as a high value-added business.
==
The definition of the "Master Entrepreneur of the Year" category that Sakurai was awarded is as follows
 - To be a representative of an industry or market
 - To be a role model for all entrepreneurs
 - Founder of a company listed on the first section of the Tokyo Stock Exchange or its equivalent
 - Must have global influence through overseas business activities
 - The business model's competitive advantage, technology, and marketing capabilities must be attracting attention in Japan and abroad
After the sudden death of his father, he took over a sake-making company that was not doing well, and after experiencing many failures, he created Dassai. Despite the many failures that followed, he developed Dassai into a brand that is loved in over 25 countries around the world.
The award was given in recognition of his willingness to devote his life to making customers say, 'Oh, so tasty'.
"I am delighted to have been selected from among nine wonderful entrepreneurs.
I would like to express my deepest gratitude to the people who have walked with me so far."
 – H. Sakurai
On the EY Entrepreneur of the Year 2021 Japan website, profiles, and interviews of the 10 finalists are posted, and archived video of the award ceremony held on December 6 can be viewed.
What is the EY Entrepreneur of the Year Award?
The EY Entrepreneur of the Year award is different from other awards in that it encourages the work of entrepreneurs with growth potential and recognizes the contributions of entrepreneurs who give people hope through their foresight, leadership, and achievements.
EY Entrepreneur of the Year, the world's first global award, celebrates entrepreneurs who have established dynamic businesses and continue to grow through a global awards system in more than 145 cities and countries in approximately 60 countries.
In Japan, EY Entrepreneur of the Year Japan is an entrepreneurial awards program that has been in place since 2001 and is now in its 21st year. EY Entrepreneur of the Year Japan is committed to supporting the next generation of entrepreneurs by selecting role models of entrepreneurship, supporting entrepreneurs who are expanding into the world, and forming entrepreneurial communities through this program.