Yamada Nishiki Project that Exceeds the Highest Level 「Dassai Beyond the Beyond」Special Tasting Report
Asahi Shuzo held a presentation for sake rice "Yamada Nishiki" contest which has been held since 2019.
During the first session, Japan's top sommeliers active on the global stage gathered together for a tasting event featuring Dassai Beyond the Beyond which was brewed with the 2019 Grand prix rice.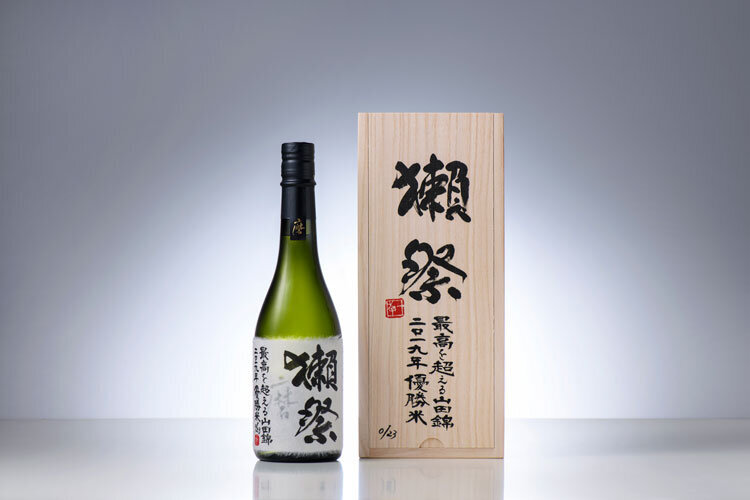 「Dassai Beyond the Beyond」
 Mr. Yoshinobu Sakauchi, a farmer from Otawara city in Tochigi Prefecture emerged as Grand Prix winner among entries from 160 farmers in the first "Yamada Nishiki Project 2019". He was a feat since it was only his 4th year cultivating Yamada Nishiki.
Using this Grand prix rice, 3 elite staff of Asahi Shuzo put in all their skills and passion to produce 23 bottles of limited "Beyond the Beyond" sake, which became a hot topic when sold at the highest bid of 840,000 yen (7,800 USD) per bottle at the 2020 Sotheby's auction.
---
Sommeliers present
Everyone on stage visited Asahi Shuzo in Iwakuni in advance to observe the brewing of Dassai and also had tastings of several types of Dassai.
・Hiroshi Ishida                 JSA Vice chairman/Restaurant L'aube(pictured right)
・Nobuhide Tani               JSA Managing Director/Hotel New Otani Food and Drink Department Restaurant Manager cum Executive Chef Sommelier
・Satoru Mori                    JSA Managing Director/Conrad Tokyo Executive Sommelier
・Akihiko Nosaka              JSA Director/Mandarin Oriental Tokyo Chef Sommelier
・Wataru Iwata                  JSA Director/THE THOUSAND KYOTO Chef Sommelier
・Taku Iguro                     JSA Director/L'OSIER Sommelier
・Miyuki Morimoto           Conrad Tokyo Sommelier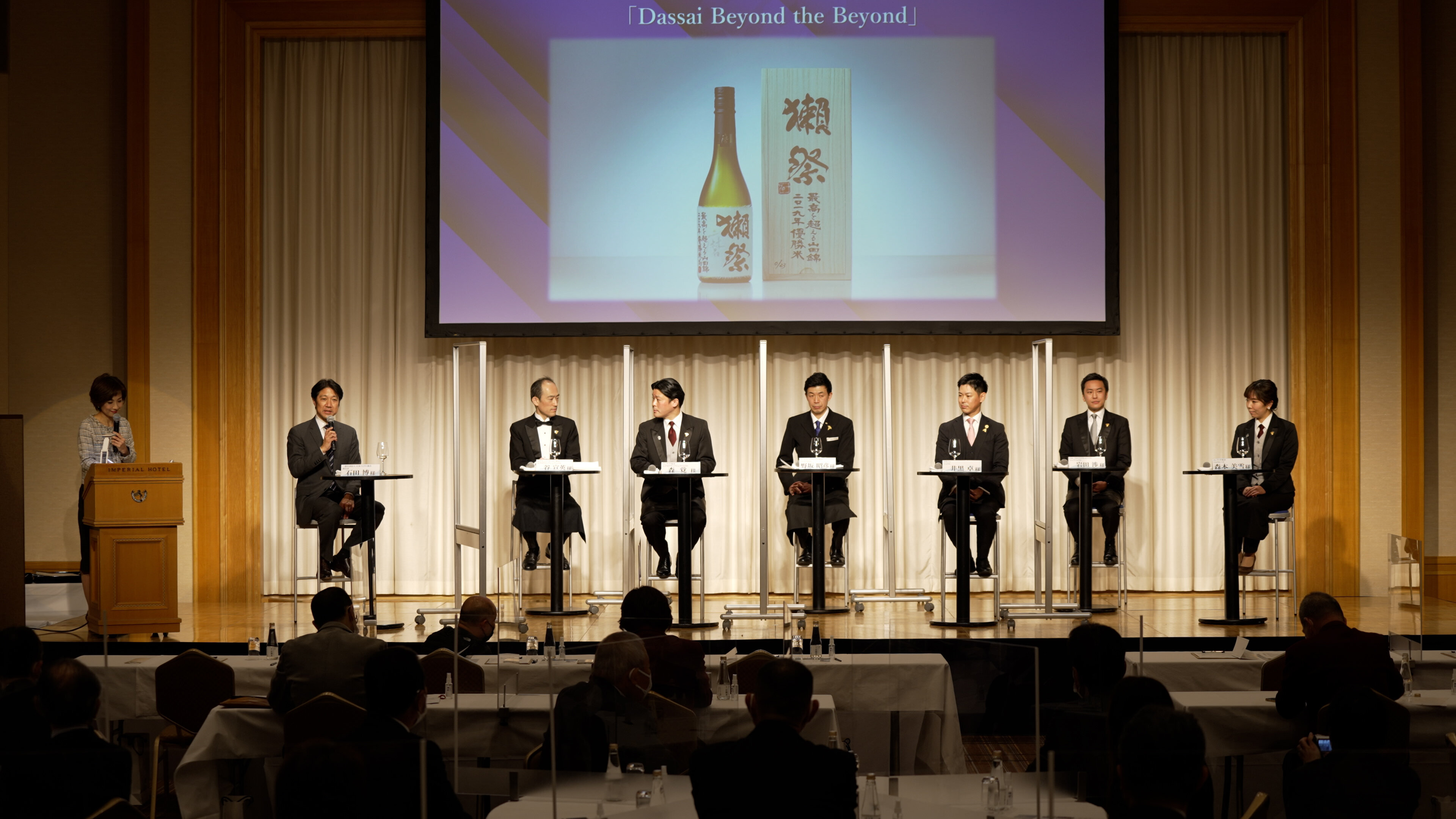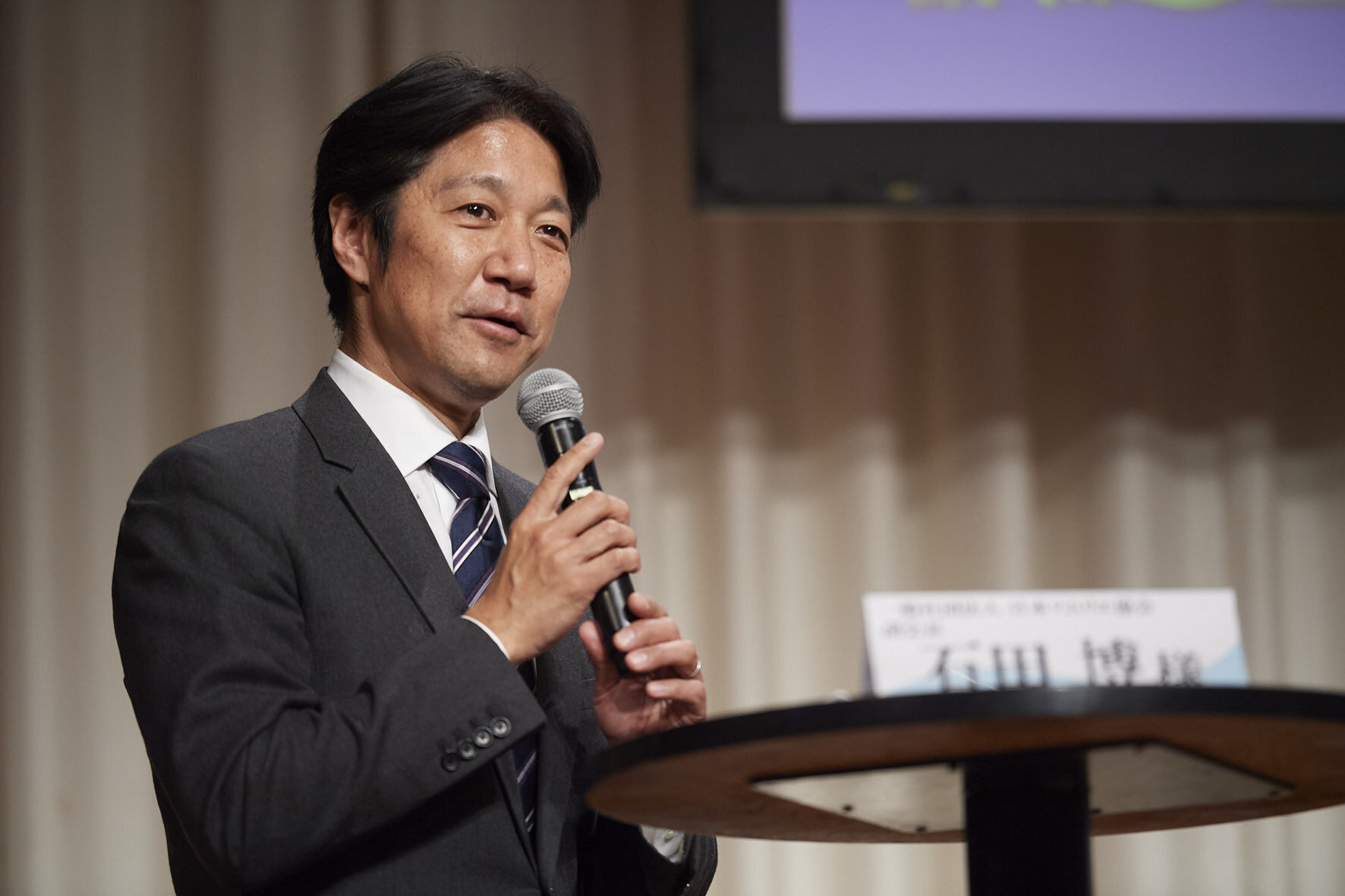 Increasing Attention from the World
According to Mr. Mori, sake's greatest value lies in its versatility in going well with various dishes. "Sake features diverse changes such as type of rice, brewing style, serving temperature and serving glass so you can enjoy it with any dish," he commented. Compared to the pairing style of wine which changes with each dish, a bottle of sake can be enjoyed throughout a single course, from the appetizer to the dessert. This wide range of ways in which sake can be enjoyed is highly evaluated. Since Japanese cuisine has been registered as a UNESCO Intangible Cultural Heritage, sake is also receiving wide attention globally.
Regarding sake rice Yamada Nishiki, Mr. Iwata said, "The character of the rice is reflected in the sake, and the sake conveys the producer's passion and the brewer's aspiration." To this, Mr. Ishida added, "Yamada Nishiki is equivalent to 'noble' in wine varieties."
Mr. Ishida also commented that a sommelier's mission is not to evaluate sake, rather it is to express and convey the sake's charm. As the word suggests, everyone's comments overflowed with vivid expressions backed by a wealth of knowledge. While it is impossible to summarize in one word, everyone shared one comment, "Delicate and magnificent, a supreme bottle with a very long finish".
---
「Beyond the Beyond 2020」Tasting comment
Excerpt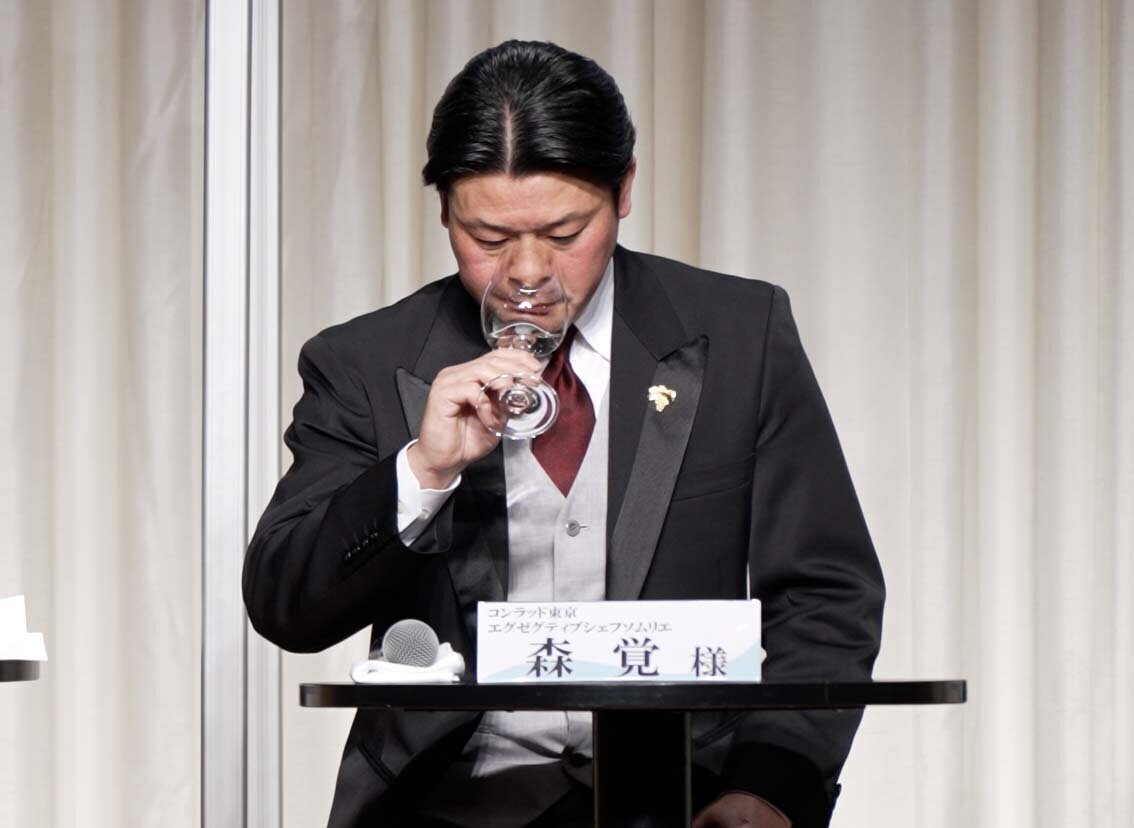 Mr. Satoru Mori
Taste: Flowingly smooth with rich flavors of fruit and spice that broaden in the mouth. A delicate balance of acidity and alcohol with a rich middle note. The finish leaves a lingering aftertaste and an exotic, enchanting and superb taste.
Especially impressive point: The wideness of the scale in which one can taste, and the bewitching taste and long flavor that spreads over the finish.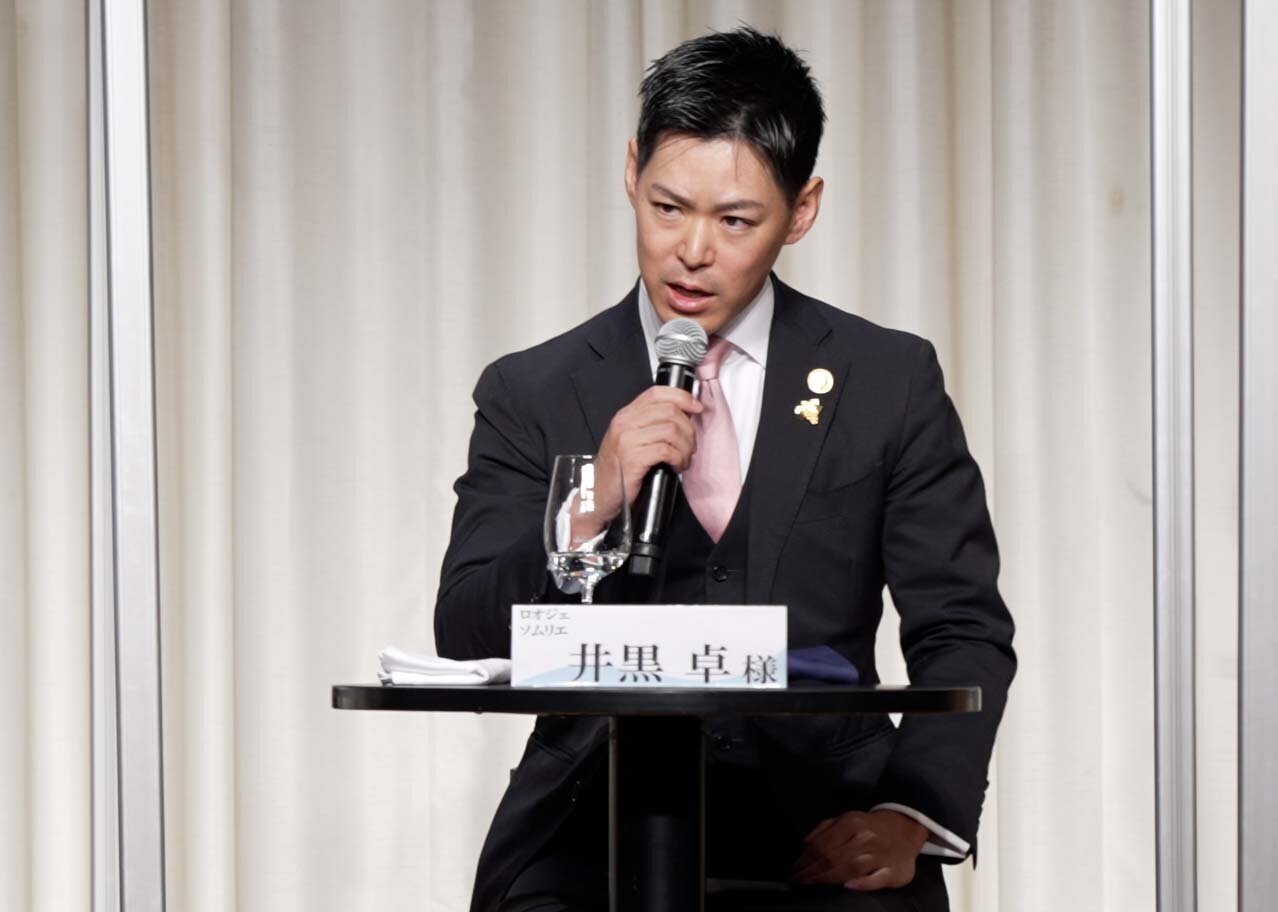 Mr. Taku Iguro
Taste: Rich, full-bodied sake with outstanding proportions, mellow and supple texture. A delicate acidity with mild umami-driven sweetness and comfortable bitterness at the finish. There is sharpness. Monumental.
Especially impressive point: Incredibly long lingering finish.
Food pairing: Authentic French cuisine, particularly with dishes that feature caviar. The caviar's creamy texture is a perfect match with Beyond the Beyond's mellow and creamy texture. In addition, caviar's saltiness could complement Yamada Nishiki's unique bittersweet taste.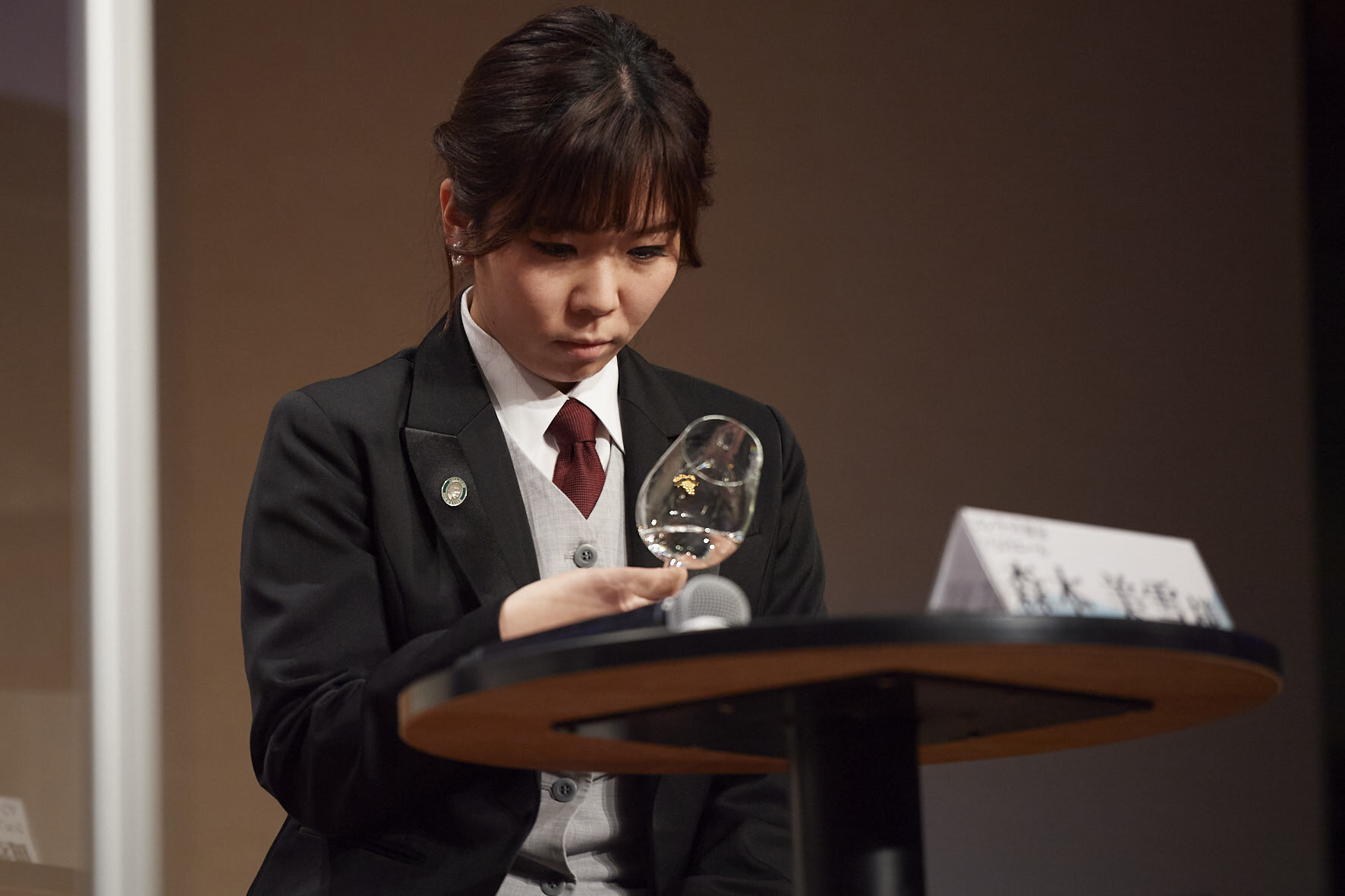 Ms. Miyuki Morimoto
Taste: The first impression is the richness and sweet taste derived from Yamada Nishiki. From the middle note to the finish, a pleasant freshness and comfortable bitterness that leads to a lingering aftertaste of umami. The aromas of sandalwood and Japanese sansho pepper represent the "deepness of Japan".
Especially impressive point: The fact that this Dassai Beyond the Beyond has a totally different style from Dassai Beyond is surprising. No other sake delivers such a long-lasting Japanese "depth", and rich umami taste from Yamada Nishiki.
Food pairing: Spiny lobster yolk shutou (salted bonito innards), conger eel and foie gras terrine, Spanish mackerel sauté, Ris de veau and Omar shrimp sauté vanilla and orange sauce.
---
What is the Yamada Nishiki project?
A contest will be held in which Yamada Nishiki farmers nationwide who contracted with Asahi Shuzo challenge to produce Yamada Nishiki better than ever. Grand Prix rice presented a prize of 30 million yen (280,000 USD) for 60 kg of rice, which is about 25 times the market price. This is the third time since 2019, and there were more than 50 entries from individuals and companies from 11 prefectures all across the country.
The major focus this time is the addition of the perspective of "Is the rice suitable for DASSAI's sake brewing?" as an evaluation standard.
 Previously in 2020, the Grand prix rice contained large shinpaku (the white part in the center of Yamada Nishiki grain which is important in sake brewing) that is characteristic of Yamada Nishiki. However when actually making sake, it turns out to be unsuited for ultra-high-polishing, which polishes rice to 20% or less, as in the case of Dassai.
Therefore, the evaluation standard from this year onwards is "ultra-high polished rice that can withstand the elements essential for making quality sake that exceeds conventional sake". Specifically put, rice with a small central shinpaku is considered good.
 It was an unprecedentedly difficult judging session for the panel judges.
Although sake is gradually gaining attention along with the spread of Japanese cuisine, it is necessary to overcome the cultural war with other alcohols including wine in order for sake to be recognized globally. Asahi Shuzo strives to increase the value of sake in the world by producing the best Dassai and making it known worldwide.
We will continue to take on the challenge in shaping the future of sake with Yamada Nishiki producers in a way that is unique to DASSAI.