Yamada Nishiki Project 2022 Preliminary Screening Report
Written by Yuna Fujii
On December 1, 2022 where the warm weather of the previous days was replaced by the biting cold of December, DASSAI held the preliminary screening for the "Yamada Nishiki Project that Goes Beyond the Best 2022" at DASSAI's rice polishing facility.
This year marks the fourth year since this project was launched. Out of a record number of 90 entries, 36 were submitted through the pre-screening process. From these entries, the Yamada Nishiki experts carefully evaluate each entry to select the best Yamada Nishiki.
■Discussion of Screening Criteria
First, the seven judges held a meeting to discuss the evaluation criteria before the screening session so that they share the same judging standards. The main point for screening is the quality of shinpaku (white starchy core).
Samples of 3 types of Yamada Nishiki brown rice rated good, normal and poor by DASSAI's standards were prepared to ensure consistency throughout the screening process.
■Start of Screening Process
Once the judges have agreed to a common set of criteria, the screening of Yamada Nishiki began immediately.
The Yamada Nishiki brown rice was laid out in the open and viewed under natural light. The judges examined the rice in a variety of ways, including shaking the tray sideways to even out the grains and feeling the grains with their hands.
I also compared the rice in the same way as the judges, by to the untrained eye, it looked as if the same rice was lined up side by side.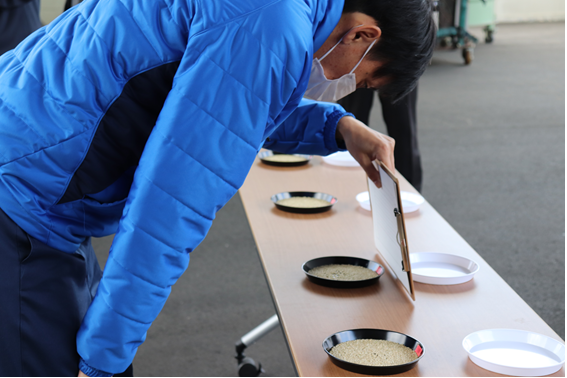 ■Overall Comments
  The evaluation criteria for the Yamada Nishiki Project from the previous year was "rice with a small shinpaku, and ease of polishing". The best of the 36 entries were carefully examined by the judges; some judges commented that the rice looked so similar that it was difficult to determine which rice is superior. The decision was made by verifying both the appearance of the rice and the data gained from the grain discriminator, which is not often used in the preliminary screening.
We heard that the amount of rice harvested this year was lower than usual due to the typhoon in summer. The fact that we still received so many entries despite the situation shows the various hardships and efforts taken by the Yamada Nishiki farmers.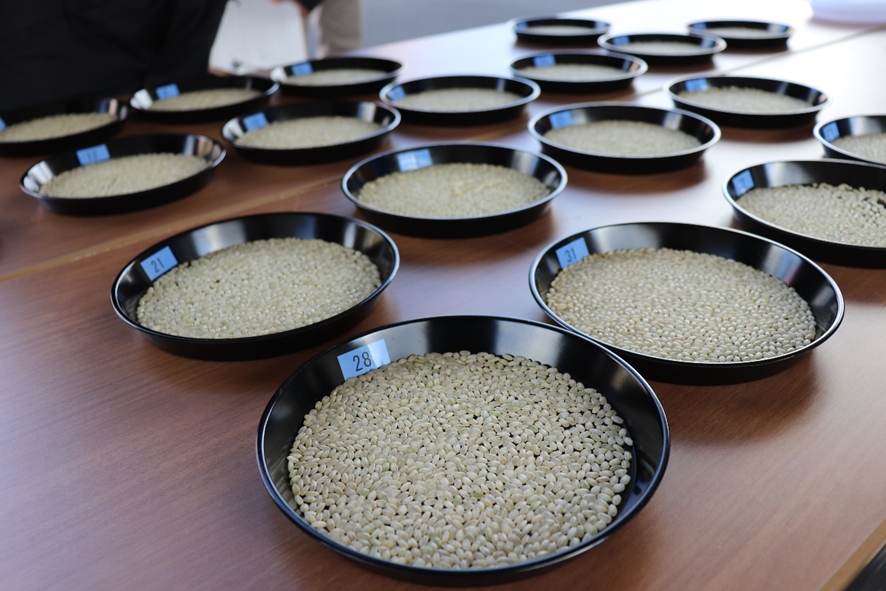 8 finalists from three prefectures will advance to the final round of the competition. The winner and runner-up of this year's contest will be determined from among them.
We are extremely excited to see what kind of rice will be chosen as "Yamada Nishiki Beyond the Best"!
・Conclusion: 21 December 2022, Wednesday
・Awards Ceremony: 17 January 2023, Tuesday at the Imperial Hotel, Tokyo
【Sake Listed for the First Time at Auction in New York - Dassai Made with Japan's Best Yamada Nishiki Sold for 8,125 USD】(Click here for more information)